EU eLearning Market Expected to Grow Rapidly by 2026
Published: March 25, 2022
Updated: September 05, 2022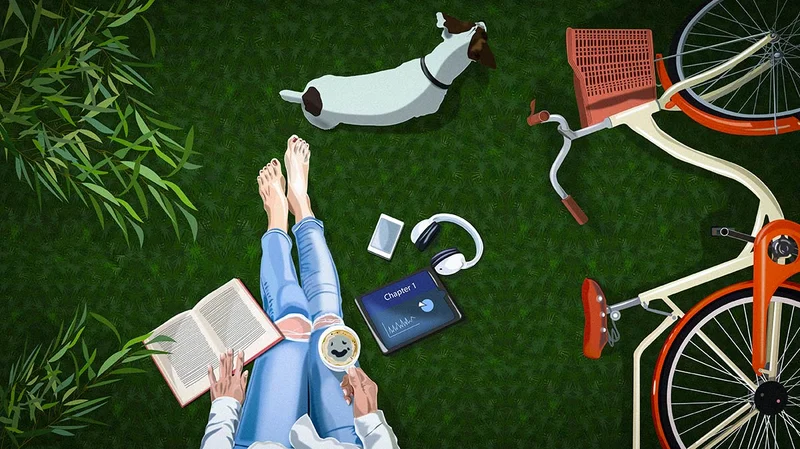 The US and North America at large have been moving big on eLearning marketing, but does it do well in Europe too?
What Is eLearning?
eLearning, also known as electronic learning, is a modern learning concept that uses digital technologies and devices to impart knowledge. It promotes a healthy exchange of knowledge by providing participants with an interactive environment regardless of time or place. The goal of eLearning is to provide students with the necessary knowledge and expertise through specially designed courses and high-quality lectures. In the European region, eLearning is becoming more popular in the corporate sector, where a variety of eLearning tools and modules, such as gamification and LMS, are integrated into employee training programmes.
The Big Players
The presence of well-established educational infrastructure drives the European eLearning market. Several Prestigious European universities have begun to provide students with blended learning experiences. As a result, there is a greater demand in the region for personalised courses and content, as well as customised learning tools. Aside from that, there has been an increase in the adoption of eLearning solutions in Europe due to various benefits such as access to multiple classes and interactive lectures and sessions.
eLearning European Market Predictions
The self-paced eLearning market size in Western Europe was USD 8 billion in 2016, while the market in Eastern Europe was around USD 1 billion. Growing adoption of these solutions by midsized and small businesses can probably be attributed to the market growth in the region. Russian businesses are the largest buyer in Eastern Europe, and the United Kingdom is the largest buyer in Western Europe.
Classic buyers of eLearning products and services in Europe, including schools, government, higher education, and corporate, are highly demanding. Experts predict that the rise in demand for continuous learning in Europe will lead to a greater adoption of different learning methodologies and products.
Technavio analysts predict that between now and 2020 the corporate training market in Europe will grow at a CAGR of close to 9%.
As stated in our recent eLearning trends report, training remains dominant in the corporate training market, but distance learning, in all its forms, is gaining ground.
Due to the presence of training solution providers and training professionals, the corporate training market in Europe is one of the most dynamic. The market is also more fragmented and specialised than many of its global counterparts, with players developing solutions for certain requirements such as problem-solving, behavioural development, and other non conventional IT skills.
Biggest eLearning Companies in Europe
During the EdTech Europe conference took place in London, June 6th, 2014, Europe's leading eLearning conference platform, announced the preliminary results of its EdTech 20 ranking, revealing the top 20 eLearning companies in Europe in terms of innovation, scale, market impact, and revenue growth in the previous year. The entries from 15 European countries were judged by an industry-leading panel that included representatives from TSL, Pearson, and Emerge Education. The entries highlighted a number of key trends in the education technology space, including the rise of the virtual classroom, language learning, and tools for enhancing workplace and professional industry training.
Here are the platforms listed in alphabetical order: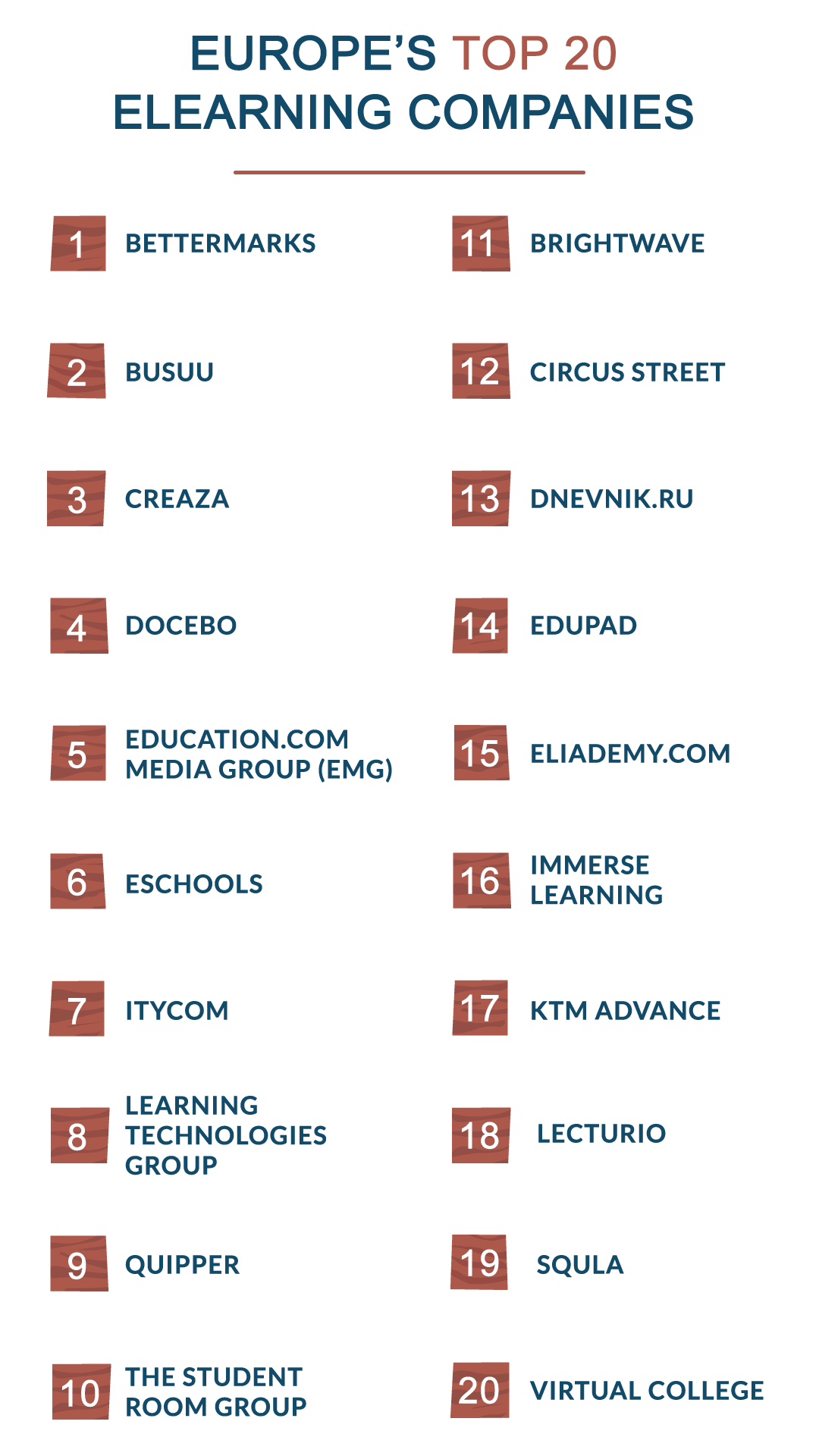 Challenges for eLearning in Europe Are Global eLearning Challenges
It is anticipated that the market will be flooded with new players and providers focusing on specific training elements. In addition, the EU market will see an increase in training organisations that specialise in specific industries.
So, what can be said about the European Union's learning market? It is growing, but it is also experiencing some of the challenges that the rest of the world is experiencing. To learn more, read our full report on the present and future of eLearning globally.
The European eLearning market is heavily influenced by cultural factors, smartphone penetration, internet connectivity, and learning methods. Due to a variety of educational methods, different European countries have different consumption patterns. Scandinavian countries invest heavily in online learning courses and are major exporters of eLearning solutions. Because of the high emphasis on digitised education methods, the presence of major European universities, and the strong demand for these solutions from corporate and professionals, the UK industry accounts for the majority share.
The European technology landscape is contributing to the regional eLearning market. The German government developed a framework for action with the country's 5G strategy, which was launched in 2017, to boost network expansion and the advancement of 5G applications. A robust telecom infrastructure in several countries, including Italy, France, Sweden, Germany, and Austria, enables a seamless eLearning experience by streaming content at high speeds with no buffering time. Strong connectivity that allows for efficient real-time interactive learning sessions will support the region's growing adoption of eLearning technologies.
The Results of the Pandemic
The ongoing coronavirus (COVID-19) pandemic has benefited the European eLearning industry, with several educational institutions using online learning platforms to ensure social distancing. For example, in February 2020, the Technical Economic Institute Tosi of Busto Arsizio in Lombardy, the region hardest hit by the pandemic, launched a new online teaching mode. This included MOOC-style teaching, virtual classes, and smart working within the confines of the regular school day. Similarly, the Ministry of Education and Vocational Training (MEFP in Spanish) has launched a new website, I learn at home (Aprendo en casa), which provides online resources such as training courses, materials, platforms, and tools.
Furthermore, in the midst of the pandemic, educational institutions have completely shifted from classroom lectures to virtual classrooms for completing the curriculum that is accessible regardless of time or place.
The Smartphones: The Future Key to eLearning
With the increasing penetration of smartphones in the region, the mobile eLearning market will gain traction in Europe. According to Pew Research Centre, smartphone ownership rates in developed countries such as Greece, Poland, and Russia are closer to six-in-ten. According to Ofcom's annual Media Nation's report, eight out of ten adults in the UK own a smartphone and use it to watch videos online as of 2019. The increasing penetration of high-speed internet connectivity, combined with rising smartphone adoption, will drive the growth of the European mobile eLearning market.
Cisco Systems, Inc., Meridian Knowledge Solutions, Microsoft Corporation, Adobe Systems Inc., Oracle Corporation, and Skill soft are the market's major players. These players are focusing on specific customer demands and employing a variety of strategies to gain a large customer base in the Europe eLearning market. For example, Net Dimensions released its Talent Slate 2.5 mobile learning app in January 2018, which includes improved online integration with the ability to launch modules directly without downloading them, randomise questions for offline assessments, pop up window capabilities, and improved access to knowledge centres.
Related Industry
Conclusion
In Summary eLearning is more than just a technological shift. It is part of a rethinking of how we as a species pass on knowledge, skills, and values to future workers and students. This Article's purpose was to make some predictions about how eLearning and the functions it serves will evolve in the future. Undoubtedly, its future is very bright and will find an enormous number of different applications. The big Companies like CISCO and Amazon are heavily implementing eLearning techniques within their strategies, which is evidence strong enough about this new and innovative way of learning.
Be the first to receive our articles