eLearning Software Development Services
eLearning software development company Aristek Systems provides custom-tailored education software development services for K-12, Primary, Secondary education, universities and corporate training. Whether you are in North America, Europe, or the Middle East, you will get a personalized eLearning experience for your students or employees through cutting-edge EdTech software.
eLearning Solutions & EdTech Software We Can Create
Whether you are looking for eLearning software for private businesses or governmental and educational establishments, our team comes to help. At Aristek Systems, we accurately evaluate your requirements and industry specifics to come up with a fully-featured EdTech development solution corresponding to your needs. Our solutions comply with OneRoster, LTI, QTI, Ed-Fi, and other standards to enable interoperability between various educational systems and enhance data security. From simple eLearning portals to complex administration software, our engineers build the functionality that delivers value to your users.
Learning Management Systems (LMS)
As one of the leading EdTech software development companies, Aristek Systems provides LMSs for schools, universities, and businesses to let them benefit from advanced assessment, reporting, and data management features. When developing elearning software, we make sure educational content is conveniently delivered to users and enables efficient online training for students and employees.
Educational Platforms
Our educational software development engineers design custom platforms to provide teachers and learners with interactive tools and resources for studying. We turn your vision into engaging online educational portals that implement modern online learning techniques and are easy to use.
Management & Administration Solutions
Aristek Systems creates fully-featured education software solutions to enable efficient task and data management for institutions of any size. We offer complete automation across all operations to save time and money, as well as to reduce the number of human errors. Management systems also allow collecting and viewing information on student records and getting insightful reports on their academic progress.
Mobile eLearning Apps
Provide learners with 24/7 access to educational resources and tools with our custom eLearning apps designed for smartphone users. Our developers will create fully-featured EdTech applications for any operating system that allow users to study on the go, anytime and anywhere. Enable push notifications to keep your users up to date and enhance their engagement in the studying process.
Corporate eLearning Solutions & Talent Management Systems
Make the learning and onboarding process for your staff simpler and more efficient with corporate eLearning solutions designed by our team. We apply EdTech development best practices and carefully study your corporate vision to provide your employees with training software tailored to your business goals. From recruitment and coaching platforms to certification systems, Aristek Systems will provide your business with a one-stop solution to encourage your staff to learn and grow professionally.
Educational VR & AR Content
We make it easy for you to keep learners of all ages engaged through advanced eLearning solutions created by our software development specialists. Introduce innovation to the educational process through VR and AR technologies and deliver a whole new studying experience with the help of Aristek Systems.
Get Your Custom eLearning Software Solution
Core Expertise
K-12 Custom Solutions

eLearning solutions for schools and school districts. Making teaching more effective and decreasing the administrative workload.

View Details

K-12 Media & Content Creation

Our educational content developers create visually impressive and effective learning aids: games, 3D models, and more.

View Details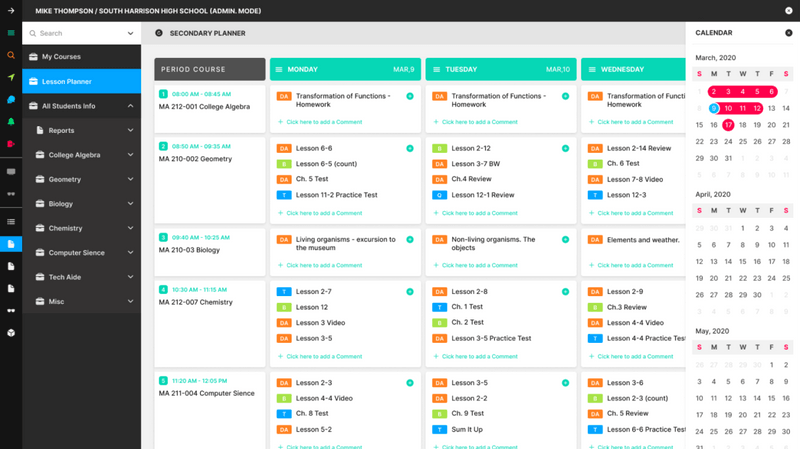 Additional Services
Custom Development
Our engineers will design and develop software from scratch, tailored to your needs and goals.
Data Migration
We help to sort out and transfer all the important data from old legacy systems to the new ones safely and with no loss.
Integration
Our team will ensure seamless integration of the eLearning software with the existing IT environment.
Support
Updating existing platforms and software helps to ensure their flawless performance.
Make the Most of EdTech Software & eLearning Solutions from Aristek Systems
As an expert in EdTech software development, Aristek Systems helps businesses and educational institutions to enhance their employee and student engagement in the learning process. Leverage the benefits of our sophisticated eLearning solutions:
Accessibility
Allow students to learn anytime and anywhere, from a variety of devices. Enable distance learning.
Usability
Our team designs engaging and interactive software that is easy to navigate and use, both for learners and teachers.
Automation
Leverage our EdTech software development solutions to simplify task management, reduce risks and the number of errors.
Personalization
We deliver a customized elearning experience through solutions tailored to your specific requirements.
Security
We guarantee protection of learners' and teachers' personal data and secure payments.
Scalability
We enable support for the increasing number of users and changing goals to let your systems grow and evolve.
Why Aristek Systems
22 years
of Digital Experience
88%
Middle and Senior Engineers
4.8 of 5.0
Rating on Clutch.co
Talk to eLearning Software Expert
Talk to eLearning Software Expert
eLearning Solutions & EdTech Software We Can Create
From an LMS to SIS and from eLearning portals to the Talent Management Systems — you can get it all at Aristek. And don't forget about learning content that we can make for you.
From an experienced educational software development company like ours, you can expect reliability, quality, and understanding. Besides that Our solutions comply with OneRoster, LTI, QTI, Ed-Fi, and other standards to enable interoperability between various educational systems and enhance data security.
We Work With
Mid-size & Corporations
Quick delivery of any kind of employee training software. Whether you need to onboard new hires or expand the skill set of current employees, business learning software from e-Learning software development company Aristek will help you achieve your goals. We can also help upgrade your existing systems and painlessly transition to new ones.
EdTech Startups
We help at every stage from creating an MVP and getting seed funding to scaling up with the help of extra educational software developers. You get not just the software, but also consulting regarding logistics, pricing model, pitching, etc. And getting to market will be quicker thanks to our experience in educational software development and cost-effective in-house frameworks.
Product Companies & SAAS Providers
Aristek as an educational software company has proven experience helping companies build and scale their product. This covers almost all kinds of software for learning: K-12, college/university, post-graduate and corporate solutions, e-books providers, etc. Should you need it, we can also build dedicated project teams for you to manage as you see fit.
Contact Our eLearning Expert
Contact Our eLearning Expert
eLearning Standards
Building systems using a set of standards will reduce your TCO considerably!
LTI

The LTI standard integrates learning apps and external systems by creating a common framework for accessing and sharing information.

OneRoster

OneRoster addresses the need for a school to safely and reliably share roster information, study guides, and grades between systems such as the Student Information System (SIS) or the Learning Information System (LIS).

QTI

The QTI framework shares assessment information across different learning platforms, such as item banks, LMS, and assessment platforms.

Ed-FI

Ed-Fi is a data standard developed to make it simple for educational systems to exchange educational data.

SCORM

Shareable Content Object Reference Model (SCORM) is an older interoperability standard that guides software developers on how to design software to communicate seamlessly with each other.

xAPI

The Experience API is the most recent and diverse e-learning software standard. It allows learning content and learning systems to communicate so that all forms of learning experiences can be recorded and tracked.
Discover K12 Software We Are Creating
CRMs, LMSes, school management software, and other applications to help you teach students and administer educational establishments. Effective, secure, and compliant.
Take Full Advantage with Aristek Systems eLearning Solution Provider
Industries First ERP SIS System
LMS Competence
Interactive Content Creation
Award-Winning eLearning Products
Solutions Tailored to Your Specific Needs
10+ Years in eLearning
Hire Ruby on Rails Developers for Building eLearning Systems
Solid Expertise in RoR Development of LMSes, Educational & Talent Management Systems.
FAQ
What Is Software for eLearning?
Software for eLearning is a tool that enables users to create and deliver education or courses. It comes with the necessary features both instructors and learners need to reach their goals. There are various types of software for eLearning. You can rely on us to get a digital education program that suits your needs — at an affordable cost.
Where Can I Find an eLearning Development Company?
Aristek Systems is a leading eLearning development company you can rely on for all your digital learning needs. Our services are affordable and we have got everything (human resources and technologies) required to develop state-of-the-art solutions for you. Get in touch with us to learn more about our services, methods, and track records.
How Much Does It Cost to Make an eLearning App?
How much it costs to make an eLearning program depends on a range of factors, including the type of application, features, tech stack, and more. It is difficult to say exactly how much it will cost to build your mobile app. However, when you reach out to us, our experts will evaluate your needs and give you a cost estimate.
Which Company Provides the Best eLearning Mobile App?
Aristek Systems provides one of the best eLearning mobile apps on the market. We stand out from other development companies when it comes to expertise, experience, work ethics, technologies, and methodologies. For over 21 years, we have been in the business of providing cutting-edge solutions to companies across the globe.
What is the Best Software for eLearning?
We provide industry-leading custom eLearning software resources. If you are looking for a custom-tailored solution for digital learning, search no further than Aristek Systems. We have a team of experts with many years of experience in the online education industry. No matter what your needs are, you are sure of jaw-dropping products with us.
Do you have more questions?