Bespoke Software Solutions Streamlining Your Business Processes in the DACH Region (Germany, Austria, Switzerland)
We provide cutting-edge, future-fit software development solutions for your custom-tailored business requirements in the DACH region. For over 2 decades, we've been offering one-of-a-kind software development services to businesses across the globe. Whether you're in Germany, Austria, or Switzerland, you can easily leverage our experience, talented developers, and futuristic technologies to stay ahead of the curve.
Industries We Serve
Education
Logistics
Healthcare
Oil & Gas
AR & VR
eCommerce
What We Do
We help businesses of all sizes — large, medium-sized, and startups — in the DACH countries to build and implement custom software solutions. Best of all, every product is tailored to suit their specific requirements.
If you're looking to hire a team of experienced developers for your projects, search no further than Aristek Systems. We're also in the business of outsourcing our engineers with over two decades of experience to companies that want to build custom-tailored, modern solutions.
We develop custom software for clients that aren't satisfied with off-the-shelf solutions or are seeking to address a unique challenge.
We, as an outsourcing software development team, also provide expert programmers to the companies that need some extra brainpower and share our two decades of experience by consulting businesses on critical IT-related matters.
We develop custom software for clients that aren't satisfied with off-the-shelf solutions or are seeking to address a unique challenge.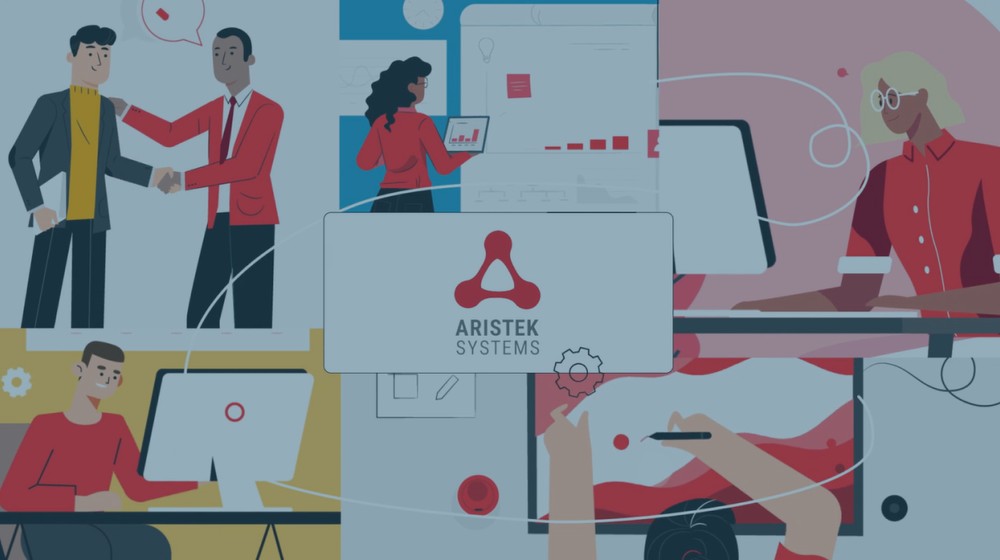 Who We Are
Aristek Systems is a leading global software development company that offers high-end services to organizations that want to stay competitive and profitable with cutting-edge solutions. We've 20+ years of experience. From Germany, and Austria to Switzerland, we've got a great reputation for turning ideas into attention-grabbing reality for companies.
We maintain a team of talented developers that has an average of 5 years of expert experience. We've got a strict hiring policy that enables us to work with the best engineers across every area of software development. Our developers, product managers, designers, and project managers are experienced and well-trained. We leverage our result-oriented and customer-first approach to keep a happy client base that trusts our services.
Here at Aristek System, we boast of a great culture of delivering beyond clients' expectations and maintaining warm relationships throughout the product development time. With us, you're sure of a professional but cordial relationship and first-rate product development.
Our Advantages
Cost-efficiency
We assure all our clients of a higher ROI due to our lower cost of doing business. Aristek Systems has a development center in Belarus; as a result, we enjoy lower taxes. We're able to offer cost-efficient services while still not compromising on quality.
Communication
When it comes to communication, we've got you covered. We work in the same time zone as you. This enables us to respond to your questions timely. Having worked with clients from the DACH countries, we understand the dominant mentality. And we're prepared to offer you the best experience possible.
Experienced Team
We stand out from the crowd with a set of industry-leading engineers. 75% of our development team has over 5 years of experience. This is why we're widely known for developing high-quality solutions that stand the test of time and meet relevant specifications.