How Maintenance Schedule Systems Flex Price Strategies Of Logistics Companies
Published: October 12, 2022
Updated: October 20, 2022
Why Is It Important Not To Skip Maintenance?
Maintaining the fleet is a necessary hassle. Skipping oil replacement even once shortens the engine lifespan. Preventative maintenance makes sure that the vehicle will ride for up to 200,000 miles.
On top of that, with the recent rise of inflation, the car parts price has skyrocketed. In just a year and a half, the price went up 20% by August 2022. Today, doing routine maintenance is a lot cheaper than repairing broken vehicles.
All that leads to repairs and maintenance being among the top operating costs in the truck industry along with fuel, trucks and driver's salary. Repairs and maintenance account for 10% of the operating expenses in the industry.
Logistics companies face the difficulty to track the maintenance schedule of multiple vehicles. Of course, the more vehicles there are in the fleet, the trickier it gets. That's why the companies are starting to look for ways to optimize and automate maintenance.

There are two main ways to keep track of the maintenance schedule:
Spreadsheets. This is the most basic solution. To set it up, head to Google Sheets or MS Excel and create a simple spreadsheet. Albeit not perfect, this solution should work just fine if you only have a couple of vehicles in your fleet.
Maintenance Schedule Systems. If your company has accumulated a decent fleet, managing the maintenance in Google Sheets may not seem like a good or even cheap option anymore. Let's take a look at how maintenance automation can help your business.
How Can A Maintenance Schedule System Help? What To Look Out For In A Maintenance Schedule System?
Save Money On Extra Staff & Avoid Human Error
Vehicle manufacturers require owners to carry out multiple maintenance stages. You need to do the primary maintenance after the first 10,000 miles and once a year. You need to change air filters every 15,000 miles and so on. If you have a few dozens of vehicles, keeping track of miles, hours and days till the next service doesn't seem feasible.
A well made maintenance schedule system will sort data automatically. This means two things. First, there won't be any errors or typos. Filling out a spreadsheet manually is meticulous work that leads to occasional mistakes. Computers are just better at handling such stuff.
Second, with an automatic schedule you won't have to hire people to maintain spreadsheets. Perfectly sorted data will just be there. This will save you money in the long run.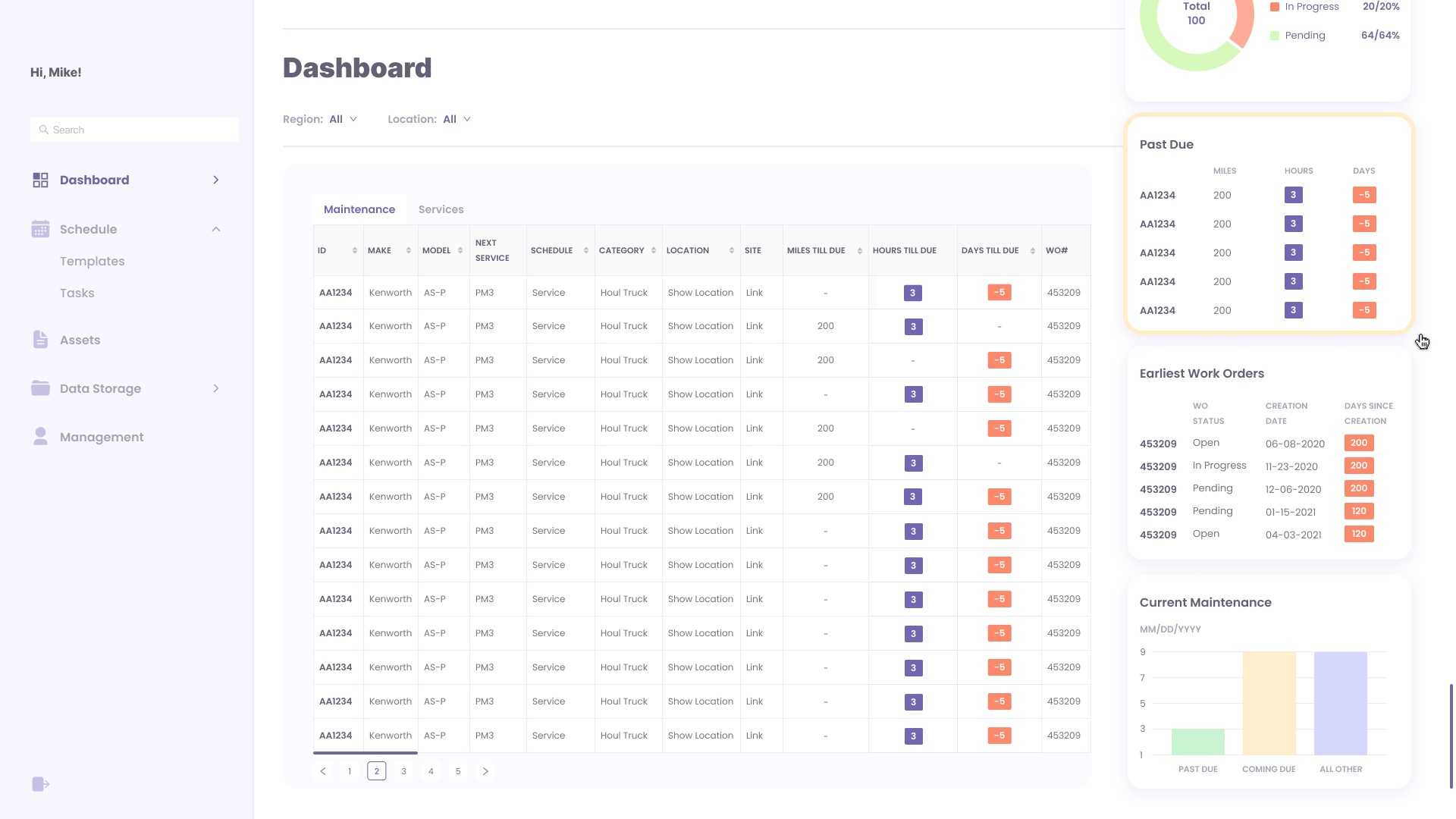 Keep Insurance Fees Low & Avoid Extra Fees On The Lease
Typically, logistics companies lease their vehicles. To keep depreciation fees low and avoid extra fees, it's important to do routine maintenance in time.
The maintenance record also goes to the insurance. With a well made maintenance schedule system, collecting data and sending the reports to insurance companies is a matter of a few minutes. Just as depreciation fees, insurance fees will also be lower if the vehicle is regularly maintained.
Reduce Paperwork With Digital Work Orders & Invoices
Each service process requires work orders and invoices. When dealing with dozens or hundreds of cars, companies also face tremendous amounts of paperwork. A robust maintenance schedule should keep all the documents in the same place.
With it, you can create work orders and invoices. This reduces paperwork between the logistics company and the maintenance service.
Ideally, the maintenance schedule should have a mobile/tablet app that will be used by the service staff that will be able to check if the service was paid. You may be familiar with the pain of having to print multiple documents.
Assign Roles
Sharing single sheets of a spreadsheet document is not convenient. That's why many people share viewing or editing rights to the entire spreadsheet.
A maintenance schedule should have an admin panel, where you can set users' rights on accessing and editing specific data.
Track Vehicles On The Map & Collect Their Data
One thing you can't do in spreadsheets is to track vehicle data, like mileage or fuel level. That's where an automated system helps. A robust one should sync with vehicle devices and collect the data automatically.
It goes even further, because some maintenance schedule systems allow tracking vehicles on a map, live.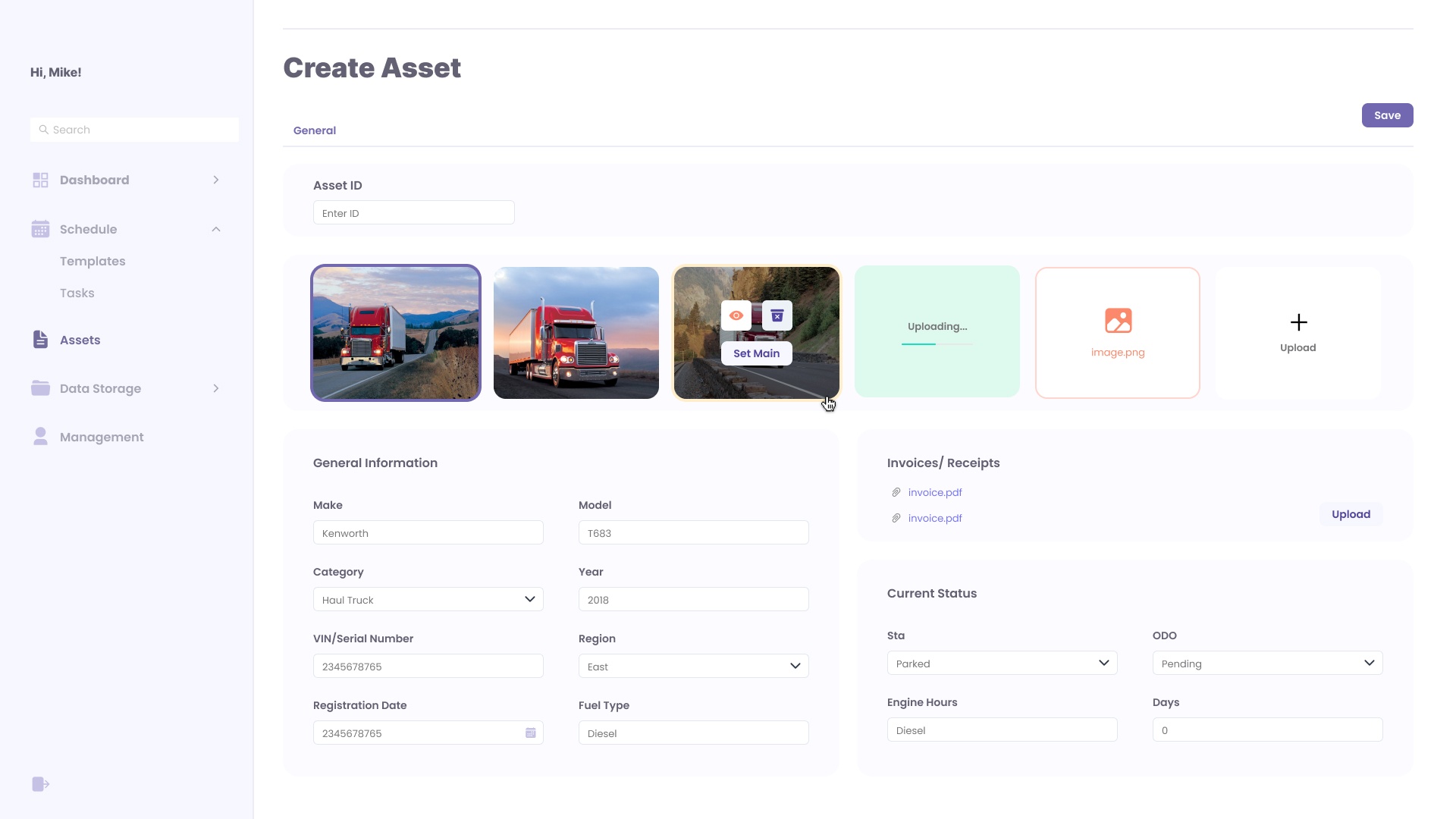 Automation Obstacles You May Face
There are all sorts of maintenance schedule systems out there. It's important to make a good choice.
Switching From Spreadsheets
Once you decide to automate maintenance, you may worry that switching from spreadsheets can be painful. True, reentering data manually can mean tons of work. Yet, the whole point of the maintenance software is to make it seamless.
That's why it's important to make sure that your maintenance schedule supports bulk upload. With this feature you can upload a spreadsheet file into the system and it will automatically sort everything out. Nice, right?
Synchronizing With Existing Software
If you already have some logistics software, you'll probably want it to synchronize with the maintenance schedule.
That's why it's important that the system should support API, a program interface that connects several computer programs. This way, if you have third-party mapping or documentation software, you can still connect it to the maintenance schedule system.
Dive Deeper Into The Case
Conclusion
Maintenance schedule systems will benefit both small and large companies. You won't have to hire additional people, yet the maintenance schedule will be detailed, structured and error-free. This will help you not miss maintenance and avoid extra fees.
If you're looking for help with the maintenance schedule, feel free to reach out to us. Our logistics expert will get back to you shortly.
Be the first to receive our articles