Getting the Best Out of Staff Augmentation. What You Need to Know
Published: September 23, 2022
Updated: September 24, 2022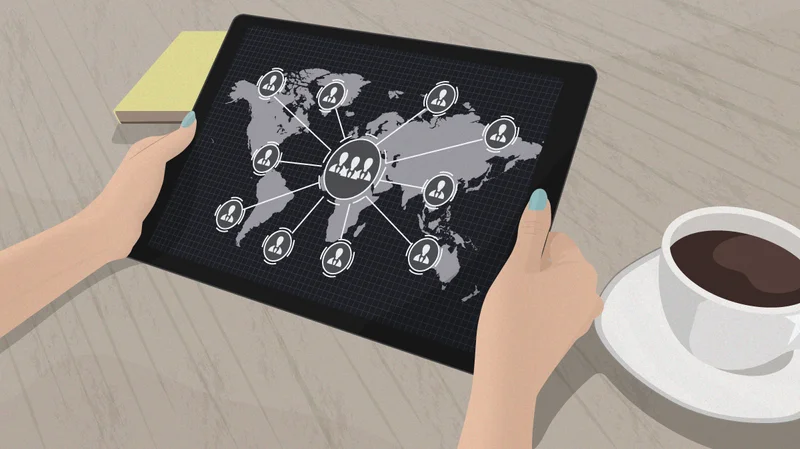 You may have come across the term 'staff augmentation model' while searching the internet for software engineers to assist you with a project, as outsourcing services are becoming increasingly popular.
Staff augmentation is an outsourcing model that entails increasing your in-house development team with advanced technical talents for the short- or long-term based on your business demands.
This concept helps firms to decrease expenditures connected to recruiting and project management of specialists while achieving the best outcomes possible.
Rather than selecting from a limited number of professionals in your region, you can engage with an outsourcing partner from Europe, for example, and receive access to a vast talent pool and recruit the top experts to bolster your team.
As a result, it is reasonable to conclude that software staff augmentation is a more practical approach for rapidly recruiting the best software team extension with the necessary specialized abilities.
This post will walk you through the basics; this will help you get a clear understanding of the service, including:
How team extension works;
How it differs from the classic dedicated team service;
And so much more.
Simalar Case We Have Already Done
How Does Staff Augmentation Work
In general, outstaffing IT staff augmentation is a relatively easy and quick operation. Around the world, reputable staff augmentation agencies provide this kind of service. As you presumably already know, various Eastern European nations, like the Czech Republic, Hungary, Poland, Romania, Lithuania, and others, are among the top locations for outsourcing software development.
As a general rule, these businesses have been active in the information technology industry for many years, or even decades; as a result, they have unrivaled access to a large talent pool consisting of software engineers that have a wide variety of talents, as well as knowledge of several programming languages and other competencies. They can swiftly find and put together a team according to your needs, giving them an advantage over competing firms.
Offshore staff augmentation is not just about providing top-notch services; it's also about developing enduring, reliable connections with clients and joining their team to help them solve their business problems.
Staff Augmentation vs. Dedicated Development Team
Two models exist in outstaffing that are pretty similar to one another. These models include staff augmentation and dedicated development teams. However, not all business owners are aware of the primary distinction between the two and the steps that must be taken to select the most appropriate option for their organization.
A dedicated development team, as opposed to an extended team, is an independent entity that performs its activities on the premises of your outsourcing partner. A comprehensive team is considered to be a component of your in-house team.
The purpose of the staff augmentation model is to either complement the existing team by adding certain specialized technical qualities that are lacking or cover the skill gaps present in the current team. Concurrently, a dedicated team will be constructed from the ground up and will comprise all of the specialists required to work on your project from the beginning stages to the product launch.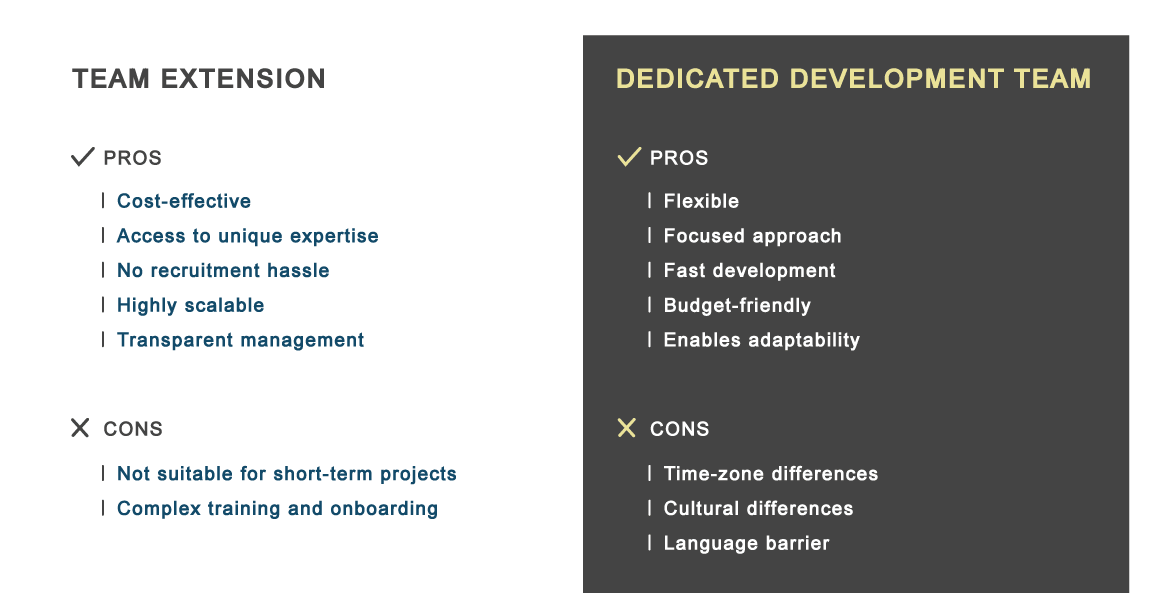 To summarize everything, the staff augmentation model will be appropriate for those companies that are prepared to invest in a long-term partnership with an outsourcing vendor and will be ready to expand the in-house team with professionals from the outside. This collaboration will enable them to achieve outstanding results and is appropriate for large long-term development projects.
When it comes to dedicated teams, this model is a good option if you are not ready to host a new team on your premises and prefer to get the job done from afar. Furthermore, it will be appropriate for projects of shorter duration and lower complexity.
Staff Augmentation Structure
Your team structure would be determined by your business needs and what you are trying to achieve. In short, be 100% sure why you are hiring a specialist for your team. When you have to press complicated tasks to perform and don't have the money to hire additional inside experts, the successful inclusion of an extended team typically works. In this broad description, thousands of minor factors and nuances may apply to your situation, including:
You need to develop MVP quickly;
Your in-house team is unequipped to manage essential project tasks;
Taking care of the project's growing scope as soon as possible is necessary;
With your present crew, you cannot accomplish your ambitious targets.
The core principle for taking on an augmented team is to make it a significant part of your current team. Practically speaking, that means empowering and supplementing smartly.
If you can identify all the issues and areas of concern, you should look for each specialist on a freelancing site. On the other hand, it is almost always simpler to hire an online vendor to conduct all of the necessary auditing, hiring, and management work rather than maintaining a dedicated workforce.
If you need a list to start, here's the typical structure of a dedicated team that we advise our clients:
Front-end engineer;
Back-end engineer;
QA engineer;
UX/UI designer;
DevOps engineer;
Business analyst (BA);
Project manager (PM).
Is This Dedicated Team Model More Cost-Effective?
Given the vast customization options, staff augmentation provides, the client has ample leeway to optimize their spending. One possibility is to bring in a specialist engineer to complete a specific assignment with a preexisting development team (or solve a particular problem).
It's possible that, for many projects, the costs associated with a team extension won't be significantly higher than those associated with a traditional dedicated-team strategy. However, that is not the primary goal of the service.
Higher efficiency at crucial stages and a focus on loyalty distinguish team extension from traditional team extension services.
Who Would Hire a Dedicated Team with Team Extension?
The healthcare (including many pharmaceutical companies) and hospitality and tourism industries are the most likely candidates for this new dedicated team approach. The first needs reliable partners to provide near-flawless software to patients and implement new technologies.
Meanwhile, hospitality and tourism businesses must continue to provide highly streamlined software solutions. Today's guests, for example, expect mobile to be a part of the hotel experience and that a hotel's comfort level extends to its mobile app.
The staff members on the other side of the reception desk require efficient digital tools to provide the services effectively. It's interesting to note that many startups use staff augmentation services to complete complex tasks.
Conclusion
In general, staff augmentation is the ideal organizational structure for a startup with several exciting projects, an established company managing lengthy projects with intricate responsibilities, and a digital agency looking to grow. Additionally, it doesn't function well if you have a small project plan, a restricted budget, or if high quality is not your top goal. In these circumstances, you won't be able to continue the extended staff augmentation and benefit from its efficiency and speed.
Visit our staff augmentation page to learn more about how a partnership with Aristek may help your business succeed by providing the human resources you need to implement your ideas and create ground-breaking software to fuel your company's expansion.
We encourage you to contact us as soon as possible if you are prepared to build a development team and hire its members. Our software engineers have assisted Fortune 500 corporations, SMBs, and startups for more than ten years.
Be the first to receive our articles