Most Frequently Used 3D Modeling Software in 2021 [+ Bonus: 2022 Top List]
Published: August 13, 2021
Updated: June 30, 2022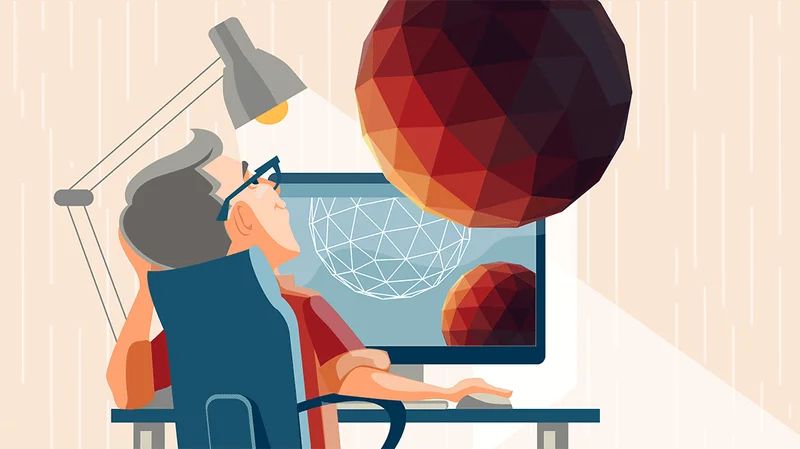 Mastering the top 3D modeling tools will put you in high demand in the rapidly expanding 3D sector. Because of the growing popularity of streaming platforms, more money is being invested in TV and movie programming, necessitating a surge in the need for 3D designers, animators, and visual effects artists.
Because of the epidemic, it's unclear how much actual shooting can be done; therefore, demand for CG content is at an all-time high. Despite your skill level, now is a perfect moment to test out the best 3D modeling software. Among the software's available are:
1. Autodesk Maya
Autodesk Maya is widely regarded as the industry standard for computer graphics, with an unrivalled set of features and tools. Maya's modeling, texturing, painting, and shading are excellent, incorporating elements, solid body physics, fabric, hair, animation character and fluid simulations. There's a risk you won't use some of its features, so consider whether it's excessive for your particular criteria. Character generation and motion and the simulation of natural materials like fire, explosions, water, and sandstorms are vital features. Bifrost procedural impacts have been added to the current version, allowing complex pieces to be built with dynamic solvers. After a scene has been generated and effects have been set, the Arnold RenderView technology allows for photo-real representation for amazingly realistic outcomes.
2. ZBrush
ZBrush is an independent sketching and modeling program that excels at creating organic forms, while newer upgrades have enhanced its hard-surface capabilities. It operates unconventionally, with a methodology and user-friendly interface that are at first difficult to grasp, so you will need to use it daily to become competent. ZBrush may be used for more than just sculpting and modeling: it can also produce UV mapping and painting patterns, allowing experienced artists to construct whole characters with clothes and props that are fully prepared to render. Having capabilities specifically designed for 3D printing, ZBrush is a standard option for artists who wish to 3D print miniatures and action figures.
3. Lightwave 3D
Modeller — for creating assets and Layout — sculpting, illumination, animating, and generating — are the two programs that makeup Lightwave. While much of the core technology is very old (although many new features have been added in recent years), it remains a powerful online content development software with many capabilities and a quick responsive PBR renderer.
Simalar Case We Have Already Done
4. Houdini
Houdini by SideFX is known as the second largest in our list of the finest 3D modeling software. Houdini's node-based computational method gives digital designers an unprecedented amount of control, versatility, and management. It's widely utilized in the VFX industry for introducing a variety of 3D visuals. This nodal technique might not be for everyone; thus, Houdini includes more traditional methods for engaging with vertices on the screen. This degree of non-standard workflows and power, such as Maya, might be challenging to grasp. Furthermore, SideFX provides Houdini Apprentice, a prerelease version of Houdini FX that could be used for individual, non-commercial works by learners, designers, and hobbyists.
5. Cinema 4D
Cinema 4D by Maxon has been for a long time and is well-known in special effects, visualization, and illustrations. It's a complicated, sophisticated piece of software that's recognized for its reliability and quality, as well as being the most straightforward 3D modeling software to learn. C4D's parametric modeling toolset is usually excellent, and a variety of affordable extensions can be used to add far more capabilities.
6. Modo
Modo evolved from a fundamental partition surface modeller to the complete online content production tool we currently know, thanks to the software development behind LightWave 3D. Modo's tools are well-thought-out and executed, creating it highly user-friendly, and then when you add in a rock-solid drawing scheme, it's clear to see why it's become so popular. Modo is one of the most outstanding software for creating polygonal forms utilizing explicit capabilities and generative approaches, with modeling at its foundation. The integration of the best-in-class Mesh Fusion Boolean system merely broadens the scope of its modeling capabilities. Modo might miss the high-end dynamics and process simulation equipment found in programs like Maya. Still, it then holds its own when generating breathtaking artwork, delivering a 3D render as excellent as any other software now available.
Simalar Case We Have Already Done
7. Blender
This software is considered the best free 3D modeling software. Blender is also one of those programs anybody can try out and utilize without worrying about the price or whether it will be improved in the future. Since the beginning, it's been an open-source 3D creative tool, and it's free to use even for business reasons.
Blender supports the complete pipelines from rendering, motion tracking, simulation, modeling, rigging, animation, and compositing to video editing. In contrast, other tools specialize in the rendering or modeling elements of the 3D process. Whenever you require mixing 2D materials with 3D models, it even features a 2D animation process. Because the source code for this software is open source, a prominent society of developers has sprouted up to improve Blender's performance to match that with some of the most effective services. This tool's pipelining feature is ideal for a group, allowing designers to concentrate on their side of a scene while watching it come along with parts generated by others. Real-time rendering with the EEVEE engine is the most recent addition, spanning the gap of what was initially feasible in real-time and impacts that needed only offline computation.
8. Autodesk 3DS Max
This 3D modeling method is particularly prominent among individuals who work on game components, animations and simulations. For example, skeletons and inverse kinematics, character controls, skinning, skeletons, and cloth simulation for bipedal motion are all typical features. If the software may not have the functionality or generating mode you require, 3DS Max has a robust plugin system that permits third-party modules to add it. Although some of these plugins are free, the greatest are premium. 3DS Max supports traditional polygon building, NURBS, and patched interfaces for modeling. In addition, a wide range of rendering systems can be used to create images.
9. Rhino
Rhino is known to be the beast of curved surfaces design. Most 3D modeling tools performed basic geometry, and a handful supplied splines until Rhinoceros first launched, but hardly any of them would manage NURBS. NURB surfaces, having their capacity to curve in much more than one dimension, are critical for precisely modeling the body of an aircraft or vehicle. Rhino, on the other hand, is the indisputable king of NURBS. Rhino, which is accessible for both PC and Mac, can sculpt things, adjust LIDAR scans, interact with models from those other systems, and even raytraced scenes.
Related Industry
Furthermore, like 3DS Max, it offers a plugin system and a comprehensive development framework for those who want to make their own. A scripting language is included with the plugins, allowing for the automation of sophisticated detailed or alteration tasks. Grasshopper, a device for creating form generation algorithms deprived of writing code, can be used even if you are not a software developer. Ultimately, this device is excellent for prototyping mechanical parts or developing idea concepts, which can then be 3D printed into tangible objects.
2022 Top List: 4 Superb 3D Softwares
Forecast from 2020 have predicted massive growth in the 3D modeling industry over the next 8 years. Signs of this growth have been apparent, as many designers have begun to invest in top quality 3D modeling softwares.
Here is an additional list of 4 superb 3D modeling softwares that have gained traction in 2022:
Adobe Substance 3D
Adobe Substance 3D is not just one app, but a group of four apps that give a complete 3D modeling experience. The 4 core apps that are included in this package are 3D Painter, 3D Designer, 3D Sampler, and 3D Stager. There might be a bit of a learning curve to getting a handle on all 4 apps.
With Adobe Substance 3D, 3D objects can be designed from scratch or imported. There is the option to add texture, color, tone, and lighting to an object. The staging feature also comes with numerous environments and backgrounds.
Adobe Substance 3D has risen to the forefront of 3D modeling apps in 2022, partly because of its capabilities and because of its reasonable prices. At two price points, there are two versions of Adobe Substance. The more affordable option comes with Substance 3D Designer, 3D Painter, and 3D Sampler.
Daz Studio
Daz Studio is recognized as one of the best entryways into the world of 3D modeling. The app plays to one strength more than others, which is rendering 3D human figures. The app allows for image and video formats with animation that is sleek and easy to implement. Daz provides two options for rendering; the 3Delight render engine or the Iray render engine. This increases the range and rendering versatility. They both also come at no extra cost.
Daz also allows users to add plugins to the app for a level of app customisation. 3D objects and animations can be imported and exported in various formats. Objects can be imported and customized in the app.
Daz stands out from the crowd because of its support for the 'Genesis' engine, which gives the human 3D figures the definition they have.
Adobe Dimension
Adobe Dimension is a 3D modeling app best for product designers. Originally named «Project Felix», founded on the 18th of March 2017, it became Dimension exactly 7 months later. Dimension stands out from other similar apps due to its mode of operation. Dimension is a photo-based mockup editor that requires the creation of models, images, and textures in third-party applications before they are loaded into Dimension.
For its rendering, Dimension used the V-Ray rendering engine up until 2019. In 2019, Dimension switched to Adobe's own 3D rendering engine. Dimension currently does not support external rendering engines, but there might be room for external engines down the line.
Adobe Dimension is easily one of the most popular 3D modeling apps for product designers and marketers.
SketchUp
SketchUp is a 3D modeling design app that is quite versatile and easy to use. SketchUp helps newbies and experts alike get familiar with 3D modeling. SketchUp can be used by a variety of users on various types of projects including theater film design, game design, architectural interior design, product design, landscape design and a host of other 3D designs.
SketchUp has a suite of tools that make workflow smooth and interesting, it also provides access to user generated and manufactured 3D models. These models are available for free and can be imported into your projects. Your projects can also be exported in a number of file formats.
There are quite a few apps as complete for rendering as SketchUp.
Although practical teaching may not have been feasible in an eLearning environment, keeping things interactive is still critical. 3D interactive models can be used in medical, architecture, and other fields; these one-of-a-kind solutions can boost academic achievement by up to 30% and make the difference between practical training and eLearning.
In conclusion, millions of human livelihoods are expected to be saved as a result of 3D modeling. Several firms have even built 3D models of human hearts, and there are sure to be many more in the near future.
"Irrespective of the application, 3D visualization, modeling, and prototype appear to have a bright future."
Be the first to receive our articles