Everything You Need To Know About OneRoster 1.2
Published: April 04, 2023
Updated: April 14, 2023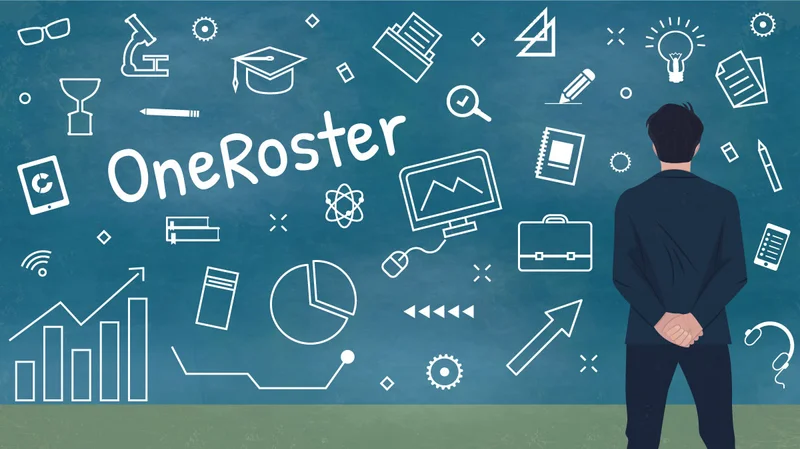 1EdTech released a new OneRoster version 1.2. In this article, we'll explain what that means for you. Should you upgrade to OneRoster 1.2? Are there any pitfalls to the upgrade?
OneRoster is a protocol that integrates SIS (student information system) with other educational systems: LMS, learning tools, assessment applications, etc.
OneRoster automates roster sharing. With it, you can share lists of students, teachers, and courses between various eLearning software.
Think of a school that has OneRoster compliant software: SIS, LMS, assessment apps, you name it. All of the systems can automatically exchange rosters and gradebook data. With OneRoster, teachers don't need to manually copy rosters from one system to another.
Now imagine that this school buys a math course that doesn't comply with OneRoster. The school has two options:
That's why the school district will probably choose learning content that complies with OneRoster.
OneRoster Services
OneRoster provides the standardized format for 3 services:
Enrollment. When a student enrolls in a course or class, the data from the SIS goes to the LMS. When new students apply to a school, the IT staff can create student profiles in batches – quickly and without frustration;
Gradebook. When a teacher grades a task, the results from the assessment application will automatically go to the SIS. This applies to all gradebook data: grades, assignments, attendance records, etc.;
Learning Resources. When students enroll in a course, OneRoster makes it simple to pass information about enrollment from the SIS to the learning platform. The LMS will automatically grant access to textbooks and assignments.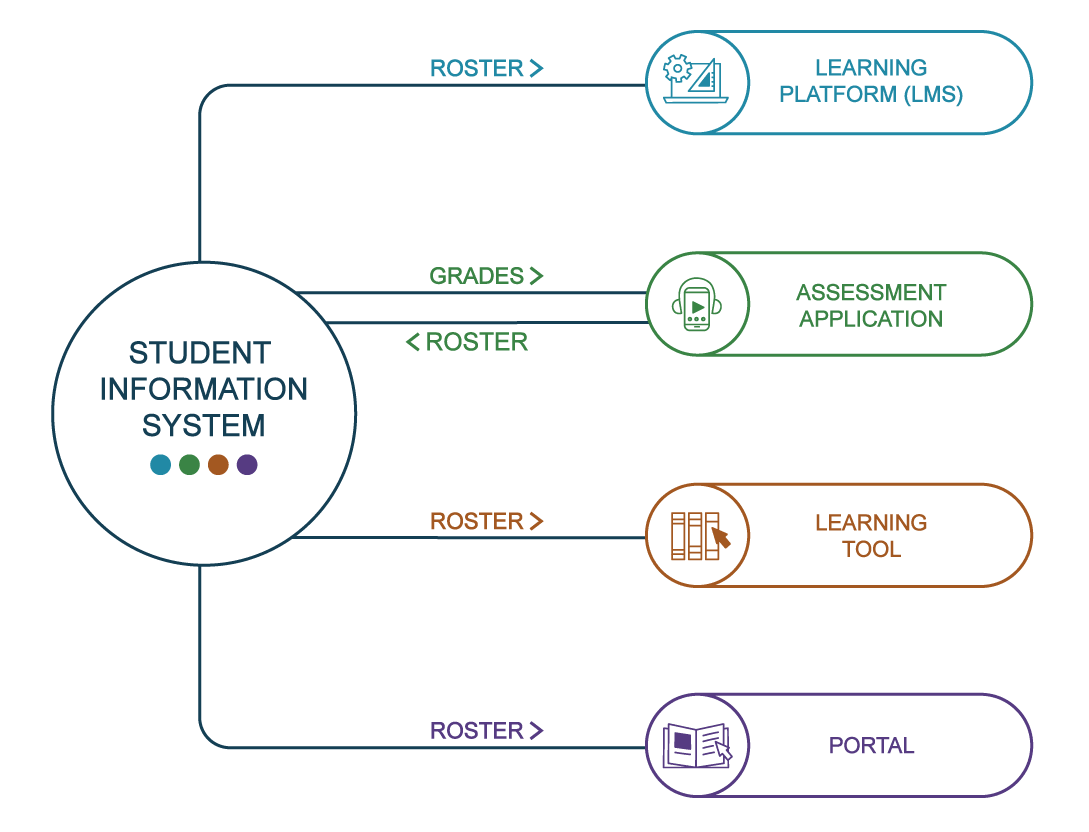 Who Needs OneRoster?
Content providers. If you sell learning materials to schools, make sure that your content integrates with the school software. If your content doesn't comply with OneRoster, the school district will probably choose your competitor. Here's why.
Schools & Districts. School districts buy educational content from many different vendors. Every content provider has their own software that hosts content. With OneRoster, districts can basically plug-and-play 3rd party software into their system. Without OneRoster, districts have to spend additional resources to integrate every single content provider into the SIS.
What's New In OneRoster 1.2?
In September 2022, 1EdTech released the latest OneRoster version 1.2. Let's see what's new.

Improved Security
IMS Security Framework. The previous OneRoster version 1.1 came out in 2017. Since then 1EdTech developed its own security framework. At the time of OR 1.1 the framework simply didn't exist. The security measures weren't unified across other protocols: LTI, QTI, and others.
In OneRoster 1.2, the security architecture is finally aligned with the Security Framework. We recommend upgrading to OR 1.2 for improved safety protocols and better PII protection.
Removed OAuth 1.0. One great thing about OneRoster is that it provides a mechanism for Single Sign On. With SSO we can log into apps and websites without entering a password. Think of logging into Zoom with your Google account.
OneRoster 1.2 stops supporting OAuth 1.0, an outdated authentication protocol. Instead, it relies on the more recent OAuth 2.0. Today, it's the golden standard for access delegation. Companies like Google, Facebook, or Amazon use it for better protection against security threats.
Enhanced Rostering
Improved Demographics
Genders. Previous OneRoster versions only recognized 2 genders. OneRoster 1.2 introduces 2 more options: other and unspecified.
Pronouns. Schools that support OneRoster 1.2 can specify the preferred pronouns of staff and students.
Preferred names. OneRoster 1.2 introduces preferred Given, Middle, and Family names for users.
Multiple User Roles
Users can have multiple roles at once: student, parent, guardian, teacher, etc. What's interesting is that now users can have multiple roles in several organizations.
For example, a user can be both a teacher and a parent at a school. At the same time, they can be a relative and a parent at another school.
Previous OneRoster versions were more rigid. In most cases, users would only have 1 role in 1 organization. For example, a single user couldn't be a parent at one school, and a relative at the other.
More Gradebook Fine-Tuning
New result statuses. Teachers can now mark student work as in progress, incomplete, late, or missing.
Text scores. Teachers don't have to score students with numbers. OR 1.2 introduces non-numeric score support.
Score scales. OneRoster 1.2 introduces score scales. To set up a scaled score, you need to take the raw score and adjust it to a specific standard. You can set up custom scales or import a specific one.
With this feature, students can get ready for college admissions: ACT, SAT, or AP.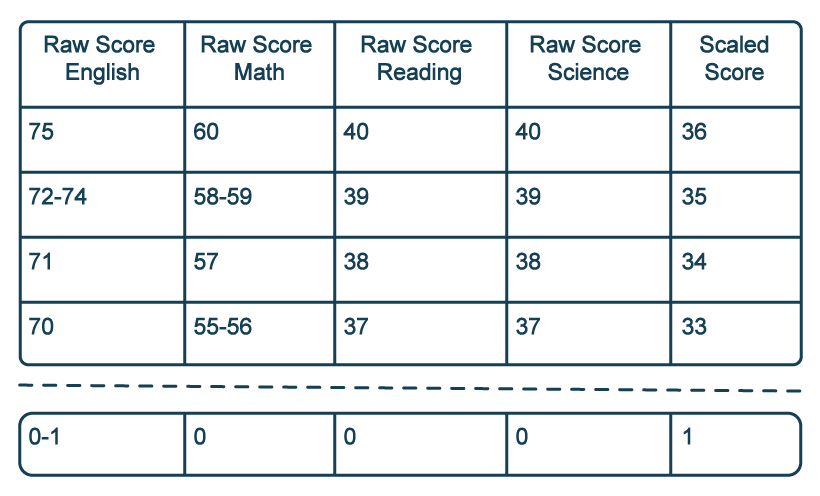 Improved Internationalization
OneRoster started out as a specification for US and Canadian schools. That's why it referenced US standards:
Common Education Data Standards (CEDS);
School Courses for the Exchange of Data (SCED).
Both are very useful in the US, but they don't apply worldwide.
In version 1.2, all references to CEDS and SCED were removed. You can still have them if you're in the US. But you can also use international vocabulary instead.
If you plan to sell curriculum to schools around the world, use software with OneRoster 1.2. Schools in Japan and Norway will soon have OneRoster 1.2.
Technical Improvements
Service API Separation
In OneRoster 1.2, API is split into 3 services:
Rostering;
Gradebook;
Resources.
In older versions, you had to keep all 3 services. Sometimes that was excessive. Now, you can pick specific services to make your eLearning ecosystem simple.
Assign Learning Materials For Specific Students
In OneRoster v1.1 teachers could assign Resources (books, tests, etc.) to specific classes and courses.
In the new version 1.2 teachers can assign learning materials to specific students. This will help students with disabilities who need an individual approach. But all students need to retake a quiz sometimes. They can do it with OneRoster 1.2.
Is OneRoster 1.1 Going To Get Deprecated Soon?
1EdTech hasn't announced deprecation yet, so we can't be sure.
Here's what we know. When OneRoster 1.1 had been released, the previous version was deprecated in about 1.5 years. The latest OR 1.2 was released in September 2022. If we can guess, version 1.1 may get deprecated in early 2024.
We recommend not waiting for the deprecation. It's best to upgrade OneRoster in advance to improve security, add global adoption, and introduce new features. This will ensure the best compatibility between the SIS and the eLearning Platform.
Is It Difficult To Implement OneRoster 1.2?
OneRoster is a complex standard. To integrate an SIS with learning software via OneRoster CSV, you need to match the file structure in both pieces of software. Basically, you make sure that the Excel files have the same rows. At first, it seems fairly easy. But developers quickly run into some difficulties.
You want to implement OneRoster the same way other EdTech companies do it. You need to integrate your software with the school SIS. But you also want to be compatible with content from other vendors. If you do this, the school will have no trouble integrating your learning tools into its ecosystem.
The main problem here is that different EdTech companies implement OneRoster in slightly different ways. Inexperienced OneRoster developers will find issues on the go.
Here's a tech example, but we'll keep it simple. Let's look at the structure of a OneRoster file: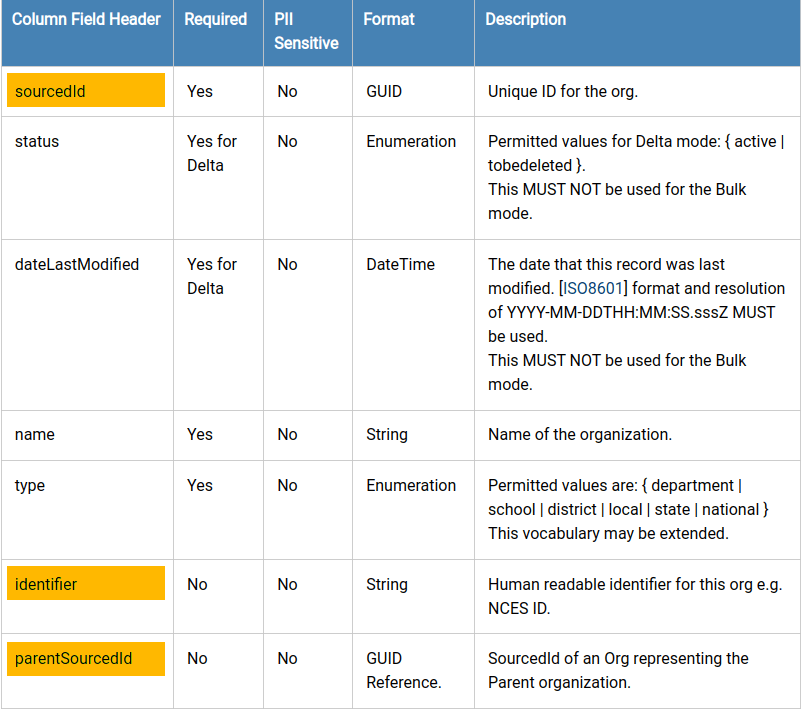 It has a required field called sourcedId. Schools must use it to comply with OneRoster.
But there are also non-required fields for identification: Identifier and parentSourcedId. A developer should choose if they want to use the optional fields as well. If they do, which ones specifically?
A developer with no OneRoster experience won't be sure which attributes to choose. They can spend hundreds of hours setting it up in trial and error. What's more, they can't see it in advance. They can only realize this issue while implementing the standard. Meanwhile, the school year is about to start soon.
An experienced OneRoster developer knows how other EdTech providers do it. In other words, they will quickly make the software compatible with as many tools as possible.
Related Industry