Why eLearning Software Solutions & Content Development Outsourcing Is a New Norm?
Published: August 27, 2021
Updated: April 20, 2022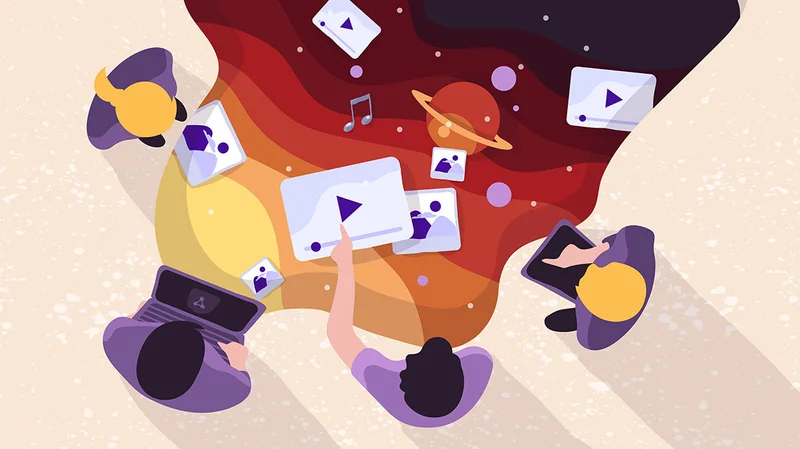 This article shows how outsourcing of the eLearning software and content production may help hybrid industries like eLearning fulfill their shifting needs.
When Should You Recruit a Development Staff for eLearning Solutions That Are Outsourced?
For long-term projects and eLearning software development, outsourced development teams are appropriate. Since it is assured that your core software engineers will not be moved to other initiatives, the significant business and product information and know-how that has been built up over time is kept on the team.
At the same time, having the option to add or subtract software engineers from your team regardless of the current requirements implies there's no pressure to keep them on your paycheck when they are not required.
Lastly, although cost savings should never be the primary motivation for outsourcing, there are significant cost savings to be obtained when hiring a development team on a monthly basis.
What are the Benefits & Drawbacks of Outsourcing Software Development?
Before diving headfirst into eLearning software development outsourcing, elearning companies should carefully weigh the benefits and drawbacks. There are various crucial elements to consider whether the firm is a startup with no in-house software development team or an established organization that desires to complement or even eliminate its current development staff.
Failure to do so can result in a significant amount of time, cost, and stress. Fortunately, there is a straightforward list of advantages and disadvantages to evaluate.
Benefits of eLearning Outsourcing
1. Lower Operating Costs
When opposed to having an in-house development team, the most common motivation for elearning companies to outsource development teams is to save money. Lowering costs is among the most sure-fire methods for a business to remain competitive and profitable.
The cost of labor in Europe, the United States, and other Western countries can be significantly more than in Belarus, Ukraine, and other prominent outsourcing locations. It's vital to note that hiring the lowest software developer often does not equate to better outcomes, so strike the correct balance between quality and price.
Lastly, by outsourcing developers, costs for equipment, welfare benefits, office space, and furniture can be reduced. There are some services that a software development outsourcing company will provide as part of its package, lowering the overall cost.
2. Increased Flexibility
The need for software development capabilities in a corporation can fluctuate for a variety of reasons. It may be a periodic firm that only has to create new software applications periodically, or it might be for other, less foreseeable purposes.
If compared to the corresponding full-time employees on the pay for the year or trying to hire and fire developers with the bad impact on a business' reputation, it is considerably less expensive to outsource software development as needed.
When working with an eLearning software development outsourcing provider, you can add and remove development team members as desired.
3. Access to Talent
It might be difficult to locate experienced and talented software engineers with the relevant capabilities locally, particularly on short notice and when other organizations are competing for the finest candidates. It aims to upgrade your reach to other regions of the globe and recruit new talent through e-learning software development outsourcing.
Certain development team positions might not have been needed full-time, causing their responsibilities to be moved to other roles. In comparison to delegating jobs to professionals, this can result in poor quality or low production.
As needed, an outsourcing firm can provide both full-time and ad hoc specialist team members.
Drawbacks of Online Learning Platform Outsourcing
If you opt to outsource elearning platform development, keep in mind that you may face several frequent challenges. It's likely that the quality of service and efficiency will be poorer than what you're used to with in-house developers; nevertheless, if you understand the complexities as well as how to avoid or minimize them, you can outsource a program or a development team with low disruption.
In addition, I would say that currently these factors are the reputation and quality of their work, for outsourcing companies it's crucial and it means that they're constantly improving their services to show the best results.
1 . Lower Quality Service
It's conceivable that a programmer will perform poorly for you, especially if their rate is cheaper than the market price. There's many, fortunately, ways to avoid this. Request a sample of resumes so you can determine whether their decades of expertise and technological specialization meet the requirements.
Then, before making a selection, ask to evaluate the top candidates or give them a test or a little assignment to assess their true abilities.
2. Communication
The majority of online learning platforms development outsourcing firms are located in countries where English is not the native language. Aside from the communication barriers, differences in culture and time zones can cause obstacles and disappointments on both sides if they are not managed properly.
Consultations and, if possible, video conversations can assist express whether someone is understanding or unclear. It will be simple to travel around in any misconceptions if you become more familiar with the culture.
3. Security Risk
Either you hire a software developer directly or hire a software development outsourcing company, you'll be revealing secret and important corporate data and assets to them, and you'll have to trust that they'll keep it private and use it responsibly.
Before entrusting your data to an outsourcing business, make sure to ask about their privacy policy and security procedures. Nonetheless, keeping it safe will not enable you to develop your products or expand your business, so the trick is to actively monitor risk while remaining open to opportunities.
How Can Businesses Overcome the Risks of eLearning Content Development Outsourcing?
The use of outsourcing partners may be frowned upon by the culture of the company. Workers may perceive themselves to be in jeopardy. Loyalty is often a problem, particularly at the start. Outsourced relationships can make IT and HR teams apprehensive about working together. When they see the instant opportunity of having contact with contract partners, nevertheless, their anxieties fade away.
Organizations are sometimes concerned that they may lose their sense of belonging to a close-knit family unit. On the other hand, outsourcing partners rapidly become adaptations of continuous team members, tools that help them create more successful eLearning content. Several internal L&D staff will need to transition from content producers to facility staff.
Although some FTEs may be concerned about this, it fosters an atmosphere in which L&D groups can be much more flexible, reacting swiftly to shareholder requirements and hybrid workers' expectations. Not only do those L&D professionals train into becoming solution strategists, but they also learn to become content developers.
We at Aristek started our experience developing software solutions, but in some we figured out one more direction — content development for elearning solutions and platforms we develop for our clients. Here we focused on 3D Modeling, educational games development (like this one), AR and VR.
Aristek Systems Expertise & Development Team Members
Aristek Systems has over a lifetime of experience as one of the top outsourcing elearning software development businesses in the world, particularly in the global market.
We use only the most modern and latest innovations to adapt to all of our initiatives and give the best software development outsourcing services to all of our clients, acknowledging that the world is changing at an incredible rate and that software is at the heart of that shift.
Save up to 50% on online learning platform development costs by hiring a team of skilled software engineers to work solely for your company.
We have developers, analysts and designers to fill all of the positions required for a full development team. Based on the particular elearning solution and the development budget, levels of experience might range from junior to senior.
Why Hire Us?
Consumers are happy, and 95% of customers come back.
Great expertise in elearning software development and testing.
Our teams are constantly held to a high standard of accountability and are self-motivated to meet their obligations.
Communication in English is fluid.
Final Thoughts
There are numerous benefits to outsourcing eLearning solutions and content development. L&D teams will be more successful and efficient if they form strong ties with eLearning content developers.
At Aristek, we help with that as well, and we produce all types of elearning solutions, plus 3D models, simple educational games, and AR.
"Startups, mid-size companies and big corporations must use outsourcing partnerships to traverse the accelerated pace of progress effectively."
Be the first to receive our articles